Chugach Ice Climbing Camp
Spend five days camping on ice and absolutely crushing some Ice climbing on an awesome Alaskan glacier with a small group of fun climbers and a great guide/instructor.
Our Chugach Ice Camp (CIC) is a multi-day workshop focusing on ice climbing instruction, glacier exploration, and sound outdoor habits. Through ice climbing, navigating, and camping on dry glacial ice terrain, participants will experience Alaska to its fullest while learning climbing and wilderness skills. Call us to discuss details.
THIS WEEK LONG EXPEDITION INCLUDES:
Ice Climbing guide/instructor extraordinaire, Benny Lieber- 4:1 Ratio
2 Helicopter flights on/off the glacier
All meals included: family style group meals
Group ice camping gear: SpaceStation tents, food, stoves, cots
Airport Pickup and drop off
Welcome and Departure dinners at Jack Sprat (alcohol not included)
1 night at Hotel Alyeska Resort in Girdwood
Rental gear available: helmet, harness, boots, crampons, ropes and hardware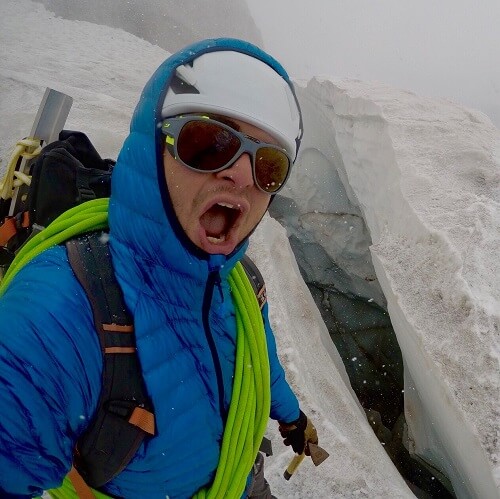 Guide/Instructor Bio: Benny Lieber
Benny comes to us from the White Mountains of New Hampshire where he grew up exploring the wilderness and currently spends the winters climbing ice in the area. Over the last few years, guiding and recreational climbing have taken him to several ranges including New Zealand, the Alaska Range, the North Cascades, Mt. Rainier and the Chugach Mountains. Benny is passionate about the wilderness and exploring it in a variety of ways whether it be by kayak, crampon, or hands and feet. He studied Industrial Design & Service Design and played for the Men's Lacrosse team at the Savannah College of Art & Design (SCAD) in Savannah, Georgia. Benny's personal climbing goals lie in traveling to peaks in the Himalaya, Karakoram and other great mountain ranges including the nearby Alaska Range and our local Chugach Mountains. Hopefully he'll make some climbing gear too! Benny is an enthusiastic and friendly guide excited about each day in the wilderness and is inspired by the wildlife, mountains, and glaciers of Alaska.