Summer 2022- Yes, we are now HIRING!
"Do what you Love…. Love what you do!"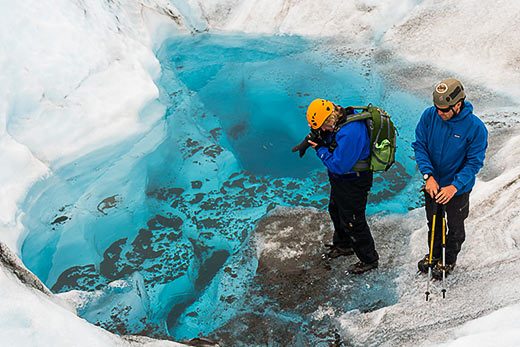 Ascending Path is a mom and pop, owner-operated adventure tourism guide service located in the unique valley town of Girdwood, Alaska.
AP's employees are extremely skilled, personable and multi-faceted leaders, well vetted and principled with outstanding communication and problem solving skills. Our guides value Autonomy: the urge to direct your own life, Mastery: the desire to get better and better at something that matters, and Purpose: the yearning to do what we do in the service of something larger than ourselves. If these principles resonate with you, read on!
While we work extremely hard during our 100 day season, we fully recognize that Guiding is a lifestyle choice and we highly support our guides in their efforts to explore the many amazing things to do in and around Girdwood. Nearby exists opportunities for: rock climbing, ice climbing, year-round backcountry skiing/riding, mountaineering, backpacking, Mtn. biking, paragliding, kite-boarding, surfing, sea kayaking, white water boating, fishing, hunting… the list goes on…
Girdwood is a small resort town that is about 45 minutes south of Anchorage. There are about 2,000 people who live here full time. In the winter the ski resort fills up with Alaskans looking to get away for the weekend. In the summer, however, it is full of tourists from all over the world flocking to Alaska, so they can cross it off their bucket list. Girdwood has tons of live music, great outdoor activities like fishing and downhill mountain biking. However, the cost of living is higher in Girdwood than in Anchorage. There is a small grocery store, gas station, several restaurants, and bars. Girdwood has walking and biking trails that start at the highway and stretch all the way across town to the resort (about 5 miles). There is also a free transit system that loops through Girdwood every 40 minutes, so it is very easy to get around- and very bike friendly!
If you want to leave Girdwood, driving is the convenient way, but you could take the train if you are planning on overnighting at your destination. 
While we have many return guides, each summer we seek a few capable and competent guides to assist us in providing a variety of fun and educational wilderness experiences for Alaskans and Visitors.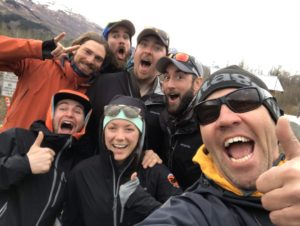 AP's Climbing and Glacier Guides typically have a very strong background in roped and un-roped (hard ice) glacier travel, heli ops, rock and ice climbing, sea kayaking, risk management and have advanced medical certifications (WFR/EMT). If you do not have previous hard ice glacier guiding experience, you will not be considered for a glacier guide position.  If you do not have previous kayak guiding experience, you will not be considered for a kayaking position. Most of our employees are already Alaskan residents, all with a cheerful, enthusiastic work ethic and a clean driving record. Many of our guides have international climbing and back-country experience, a bachelor's degree and freelance to other top notch guide services. If you would like to work with us, please read the job descriptions below and email us: a tailored cover letter, resume and some references.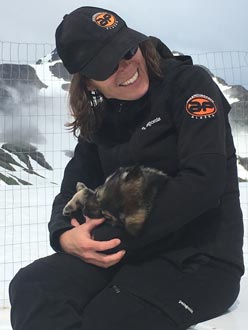 AP's Hiking Guides have very strong communication skills, client management and environmental interpretive skills and a strong desire to share Alaska with visitors. All are Alaskan residents, have international travel experience, a bachelor's degree (preferably in Environmental Sciences, Outdoor Education or similar), a clean driving record and an enthusiastic work ethic. They primarily run half day hikes on the Winner Creek trail from Alyeska Resort, Anchorage Day Hikes, Crow Pass and Spencer Iceberg Hikes.
For summers, we sometimes have Internship and/or Apprentice Guide positions as an Assistant Guide and/or Office and Vehicle Specific Intern. Interns primarily assist senior guides and staff and are given more responsibilities as knowledge, skills and abilities dictate. Please see descriptions below.
Guides receive company gear to use and extensive training in: naturalism, rescue procedures, field safety and risk management of technical rock and ice climbing, glacier travel and sea kayaking. Based on skills, guides rotate between guiding Heli, Alpine and Glacier Hikes, Kayaking, Rock Climbing and Rain Forest Hikes. Exciting opportunities also exist for climbing-related film projects, science support and longer expeditions.
Our season is from May through September, and we guide about 2000 clients. We work hard in the summer months and play hard in fall and winter. Guides are expected to be available the full 100 days, with pre-scheduled days off.  We pay very well, with a tailored job offer to your specific case and a per trip guided bonus structure (more for a full season commitment). Full season guides can expect to gross $10-15K, housing assistance, swag, helicopter trips, great tips and lifelong friends. Ascending Path provides awesome housing and can pick you up from the airport when you arrive for the season.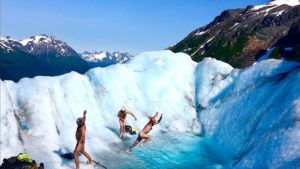 Please read through our website to get a better understanding of our background and the services we provide. If you are interested in joining our team of committed and dedicated guides, email us your resume and a letter to [email protected] describing why you want to work with us and the jobs you are applying for (preference is given to local Alaskans).
Thanks again for your interest in joining our team.
Read Up on Girdwood:
About Girdwood
About Alyeska Resort
About the Glacier Discovery Train
JOB DESCRIPTIONS: