ULTIMATE GLACIER CAMPING ADVENTURE
An Alaska glacier camping tour that includes our best adventure activities.
The Ultimate Glacier Camping Adventure includes our iceberg kayaking tour followed by a helicopter flight to our glacier camping location for a night of glamping (glamours camping) with a catered Alaska crab legs dinner. After a morning of exploration on the glacier, enjoy another helicopter ride to the Hotel Alyeska.
A Multi-Sport Overnight Adventure
This adventure tour includes a ride on the Alaska Railroad, kayaking past ancient ice, hiking near the face of a glacier, camping on a glacier and guided glacial exploration. Peer deep into crevasses, find ice caves, and learn how glaciers are formed. Instead of simply viewing glaciers from a distance, you'll be actively exploring around and on a glacier! This trip ticks off an impressive bucket list of unique Alaska adventures in two days.
Nowhere else in the world can you: ride a train, sea kayak, explore ice, sleep and dine on a glacier as well as experience 2 scenic helicopter flights all in two days!
Since you will be staying the night on the glacier, you will have extra time to explore the ice and take photos. You will enjoy dining on the glacier during the midnight sun with panoramic glacier, mountain and lake views while eating a memorable King Crab dinner. Your sleeping arrangements will be in a comfy North Face 2 Meter Dome or Space Station tent on the glacier with cots, pillows and sleeping bags. The next morning will include a hot breakfast, more exploration, lunch and a helicopter pickup at 2pm for the flight back to Portage or Hotel Alyeska.
THIS 2 DAY LUXURY TOUR INCLUDES: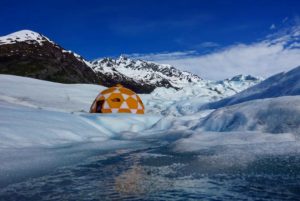 Train ticket to Spencer Whistle Stop
Shuttle at Spencer Whistle Stop to Spencer Lake
Paddling instruction and briefings
All paddling gear: Necky Looksha Tandem sea kayaks, spray skirts, PFD's, gloves, rain jacket and pants, dry bags, kayak safety equipment
Scenic helicopter flights onto and off the Glacier
All glacier hiking gear: crampons, helmets, glacier safety equipment
All glacier camping gear: 2 Meter Dome, Space Station tent, cots, pillows, sleeping bags, toilet tent.
Catered deli boxed lunch, bottled waters, granola bars and snacks
Catered Crab Legs dinner and dessert on the glacier
Hot breakfast and Lunch on the glacier
Small Ratios (min: 2:2 max: 6:2/client:guide)
Guides pace the trip and total mileage to the groups' fitness level, interests and ice/water conditions
Bear/Wildlife Protection and satellite tracking and communication devices
Interpretative glaciology, ecology and natural history discussions
Ice Cave access and exploration if conditions allow
Ice Climbing upgrade: includes ice axes, hardware, ropes, mountaineering boots and other glacier safety equipment