POLICIES
TRAVEL INSURANCE
Ascending Path strongly recommends that you consider purchasing trip insurance in the event of weather, illness or any other emergency, which delays or prevents you from reaching your destination during your trip. Take this time to review our Cancellation Policy to determine where additional coverage might be applicable to your situation. We recommend clients purchase travel insurance from Yonder.

YONDER Travel Insurance Coronavirus Outbreak Information: If you are concerned about cancelling your trip due to the spread of the coronavirus or travel advisories at your destination, ensure you are purchasing a policy with Cancel for Any Reason coverage by selecting: "Cancellation coverage in case: I need to cancel my trip for any reason".
CANCELLATION POLICY
No one likes to cancel, but a significant portion of Ascending Path's expenses are committed long before a trip departs. Upon receipt of written notice of cancellation, the balance of a trip price (or deposit) will be refunded according to the following schedule:
Reservations of 1-9 people Cancellation policy
Groups of 10 or more, Privates and/or Buy-Outs Cancellation policy
31+ days: 50% refund
0-30 days: non-changeable, non-refundable
CANCELLATION/REFUND AND CHANGE FEES:
At minimum, 10% of the total price of the trip is non-refundable

.

All train and air bookings are subject to a 10% non-commissionable change fee.

On a case by case basis, Ascending Path can try to reschedule but it is subject to guide and transportation availability. Additional (non-commissionable) change fees may apply.

Once a trip departs, there is no refund for shortened, altered itineraries or cancelled trips due to: weather or other trip interruption, lack of client preparedness, clients booked improperly for a tour, clients not meeting age, medical or physical requirements, impairment or incapabilities.

No refunds will be issued for unused service.
Any charges incurred by Ascending Path as a result of changes made by the customer will be applied to the booking in addition to any change fee.
TERMS AND CONDITIONS FOR ALL AP TRIPS
Alaska is inherently dangerous, APLLC does it's best it can to mitigate risk.
Ascending Path, LLC reserves the right to modify or cancel a trip for any reason prior to departure due to weather/safety. In the event of cancellation please see cancellation policy. We recommend travelers insurance. 
Ascending Path, LLC is not responsible for any expenses incurred by a participant in preparation for the trip, including but not limited to transportation, airline tickets and/or equipment purchases.
Ascending Path, LLC and their employees, agents and/or associates reserve the right to change, alter or cancel the itinerary as, in their sole discretion, they find necessary for the proper and safe handling of the trip.
Trip description, itinerary, meeting location and/or prices are subject to change.

AP reserves the right to deny program admission to any individual whom AP believes is not prepared physically, technically or psychologically for a program or to disqualify them from any portion of the trip. Please see our

Essential Eligibility Criteria

.
ESSENTIAL ELIGIBILITY CRITERIA
Please come prepared for your trip and read AP's Essential Eligibility Criteria. Ascending Path, LLC reserves the right to deny program admission to any individual whom APLLC believes does not fulfill our Essential Eligibility Criteria and/or is not prepared physically, technically or psychologically for a program or to disqualify them from any portion of the trip.
PRIVACY POLICY
AP will NEVER share your personal contact info, demographics, or any other information about you or our relationship with anyone outside our small business. We are discrete.
DO YOU MAKE EXCEPTIONS?
On a case-by-case basis we consider exceptions. For better risk management, we recommend buying out a trip as a private with your own guide. This is only available with advanced reservations, within safety parameters and as space and staffing is available. Please email us your request, we are more than happy to think of solutions- just to make it happen for you.
VENDORS AND TRAVEL AGENTS
To book any Ascending Path trips we require pre-payment in full via check or a unique voucher number issued by an approved vendor to hold and confirm all reservations.
If you are not a pre-approved vendor: ALL pre-booked trips will need to be pre-paid at time of booking. AP may invoice at the time of booking and a check will need to be received by AP within 30 days of invoice. Email us if you are not a pre-approved vendor so we may set up an account for multiple bookings or process a credit card payment for a one time booking.
TRIP QUESTIONS
WHEN SHOULD I BOOK THESE SUPER POPULAR TRIPS?
Due to high demand and limited space available we recommend reservations be made one year to several months in advance. Bookings made 1 week in advance of departure date may be cancelled per our cancellation policy if we cannot accommodate. Groups ranging from 5 or more people and/or custom trips should book as far out as possible to ensure availability.
MAKING RESERVATIONS AND PAYMENT IN FULL TO BOOK YOUR TRIP?
To book any Ascending Path trip we require prepayment in full via credit card, check or cash to hold and confirm all reservations. We take Visa, MasterCard, American Express, Discover, debit through our online reservation system. After you enter your credit card info, a questionnaire will pop up with specific questions for us to best prepare for your adventure. The receipt you get by email will include: a link to our online waiver (please fill out right away- and forward to others going), a link to modify your trip (make add-ons), lists of what to wear and bring, what we provide, a map for where to meet and some tips on being best prepared.
If you would like to pay by check or cash you must email us with a reservation request and let us know you want to mail us a check or pay cash when you arrive. We will request your credit card number and information to place as a hold for the total price of the trip in case you no-show. If you no-show and we have not received your check or cash payment your credit card will be charged for the total trip price.
Up to 14 days in advance, you can modify the date and roster of your trip for free through the link on your reservation confirmation email. You can also cancel and receive a 90% refund immediately.
IS IT WORTH IT?
Yes… just read our TripAdvisor Reviews! Tours include top of the line gear, world-class guides, small ratios (client to guide), trail snacks, water, additional attire as needed and interpretive natural history, ecology and glaciology discussions. For some trips we also provide: a catered deli boxed lunch, round trip transportation, round trip train ticket or helicopter. Guests visiting Southcentral Alaska come away with better respect and knowledge about glaciers, mountains, the history of Alaska, not to mention cool photographs!
HOW DO I KNOW IF YOUR GEAR WILL FIT ME?
Tandem kayaks and climbing gear can accommodate most people. Generally if you are under 6'7" tall, weigh less than 250 pounds or have a waist size of less than 44" our kayaks and gear will fit. Crampon and mountaineering boot sizes range from US Men's 4-14. For questions about eligibility read our Essential Eligibility Criteria. Exceptions can usually be made in advance by buying a private/custom trip and/or modifying a portion of the trip within safety parameters to accommodate the client(s). You may email us with questions.
PRIVATE GUIDING
We offer private guiding structured as buy-outs of our existing time slots or a custom time slot. If you have something else in mind, drop us a note. Past clients have included rock-stars, movie stars and even the White-House.
PRIVATE GROUP EVENTS
From 100 person corporate team building scavenger hunts, to a group adventure journey or overnight expedition, we have the experience, gear and guides to manage and coordinate your dream incentive or team event. It's all about your interests and budget, we literally go to the ends of the Earth for our clients. Email us with your interests, dates and specifics and we will be in touch with more information.
GLACIER WEDDINGS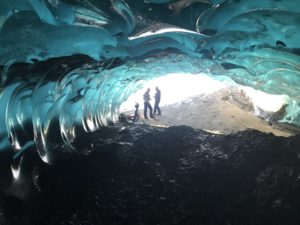 From a 2 person private ceremony, to a 50 person glacier basecamp scene- we have the experience, amazing glacier locations, gear and guides to manage and coordinate your dream wedding. Get married inside an Ice Cave! Our guides have even been private officiants many times (in Alaska we let anyone do the ceremony!)
It's all about your interests and budget. Email us with your crazy ideas- and we can help make it happen! Then consider spending your honeymoon night Glamping on the ICE….
OVERNIGHTS AND GLAMPING
Glamping = Glamorous camping, in this case, "Alaska Glamorous". Please see our Trip Advisor reviews and guest images from this trip.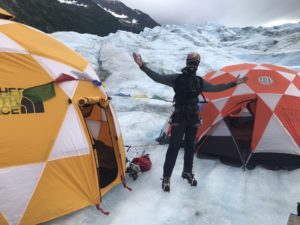 AP offers exclusive overnight glacier camping and glamping in advance by appointment only. AP's Ultimate Overnight Adventure includes riding a train, sea kayaking, a short heli flight, then glacier hiking, glamping on a glacier and a helicopter pick up from the glacier and flight back to Portage or the Hotel Alyeska in Girdwood. This is a rockstar adventure found nowhere else in the world!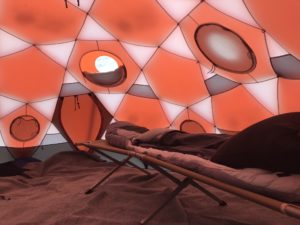 If you want to glacier camp without a train ride and sea kayaking, AP can provide a glamping experience with round trip helicopter transportation to the Spencer glacier. This trip would not be as physical in nature but would still include glacier hiking and exploring. Please email us for more information and a price quote for your group size.
FAMILIES
We LOVE guiding families. We often make special dispensations regarding ages if the parents and older siblings are willing to "help" with the little ones. If your family would like an exclusive experience, rather than being paired with some unknown travelers, consider a private buy-out.
SOLO TRAVELERS
If you are traveling alone, and want a specific time or date, go ahead and book for 1 and we will steer others to your spot to make the trip happen for you. Another option is to call our office to see what trips are already going with space for 1.
WHY TAKE THE EARLY MORNING COASTAL CLASSIC TRAIN?
AP now has Morning train options on the Southbound Coastal Classic 5 days a week (Sunday-Thursday) for Iceberg Kayaking and Ice Climbing trips. Disembarking from the Southbound Coastal Classic train is available exclusively to operators (not the public). Options thereby exist to spend more time kayaking, ice climbing or hiking at Spencer with us. Early in the morning the katabatic winds have not started and the lake is usually glassy paddling.
At Spencer from: 8:30a-1:30p: 5 hours (kayaking, hiking and Grandview train ride)
CAN WE BOARD THE TRAIN IN WHITTIER?
YES! Folks arriving Whittier by cruise ship can catch the 12:45pm Glacier Discovery train (Alaska Railroad) from Whittier to Portage. This applies to our Spencer Glacier hikes and Iceberg viewing Hikes. You will need to book directly with AP so we can arrange the one-way rail tickets needed to get you back to Anchorage or Girdwood that evening.
WHERE DO GIRDWOOD TRIPS MEET?
Trips that meet and depart from Girdwood, meet at the Hotel Alyeska LOBBY. Look for an AP vehicle and/or your AP guide. See our contact page for Google map directions- or click here: Address: 1000 Arlberg Ave, Girdwood, AK 99587
For 14 years, Ascending Path had a Yurt located in the tram terminal cul-de-sac on the backside of the Hotel Alyeska in Girdwood. We have grown out of this space and now operate from an exciting new basecamp in Girdwood. Some old directions might send you here. Go to the Lobby!
TRIP PREPARATION
PRE-TOUR FITNESS
It is a good idea to start your vacation with Ascending Path in hiking shape. Our guides will customize the tour based on your fitness level but we want to make sure you enjoy your vacation as much as possible- so being ready to hike, climb or paddle is key! Please read the below suggestions:
Leading up to your tour or time in Alaska, try to exercise by hiking, walking, running or doing cardio fitness about 2 days a week. The cardio fitness mileage and exertion level should be the same or similar to the distance, elevation gains and time you will spend hiking while on tour with AP.
If you signed up for rock or ice climbing and have never climbed, that is no problem. However, you will get more out of your experience with AP if you try climbing at your local indoor rock gym.
If you signed up for trip that includes paddling a sea kayak, we recommend you paddle at least once before your trip to Alaska. Upper body exercise using a rowing machine, lifting weights or yoga will also help strengthen your upper body to maximize your enjoyment paddling.
TRAIN LOGISTICS & MAP
TIP YOUR GUIDE
If you like the ride – tip your guide! Gratuity is not mandatory, but very much appreciated by your guides as a way to say thank you for a wonderful trip. The amount you should tip should be whatever you're comfortable with. A tip of 20% of the cost of the tour is in the normal range. Remember to have cash on hand at the end of your tour for tipping and you can now tip though your confirmation email.
RECOMMENDED CLOTHING?
All trips: Wear/bring comfortable warm synthetic clothes dressing in layers: mid-weight long sleeved long john top and pants, Patagonia Simul Alpine Pants (or similar), fleece jacket, rain jacket, rain pants, lightweight fleece gloves, wool/fleece hat, sunglasses, ball cap, hiking boots or trail sneakers. Cotton clothes are NOT recommended! Bring a small backpack for layers, water bottle and binoculars, don't forget your camera!
Glacier Overnights: Cotton clothes are not recommended. Wear comfortable warm synthetic clothes dressing in layers (mid-weight long sleeved long john top and pants, fleece jacket, Patagonia Simul Alpine Pants (or similar), rain jacket, rain pants, down jacket or parka, winter ski-type gloves, 1 pair mid-weight wool socks, lightweight fleece gloves, wool/fleece winter hat, sunglasses, ball cap) and hiking boots. Bring a small backpack for extra layers, 1 extra pair mid-weight wool socks, small travel size toiletries: toothbrush, toothpaste and any medications needed, small paperback book (if desired), water bottle and don't forget your camera and backup charger. Due to limited space in the helicopter, pack as minimal as possible.
For specific advice on what to wear, click on our packing list below.
PACKING LISTS